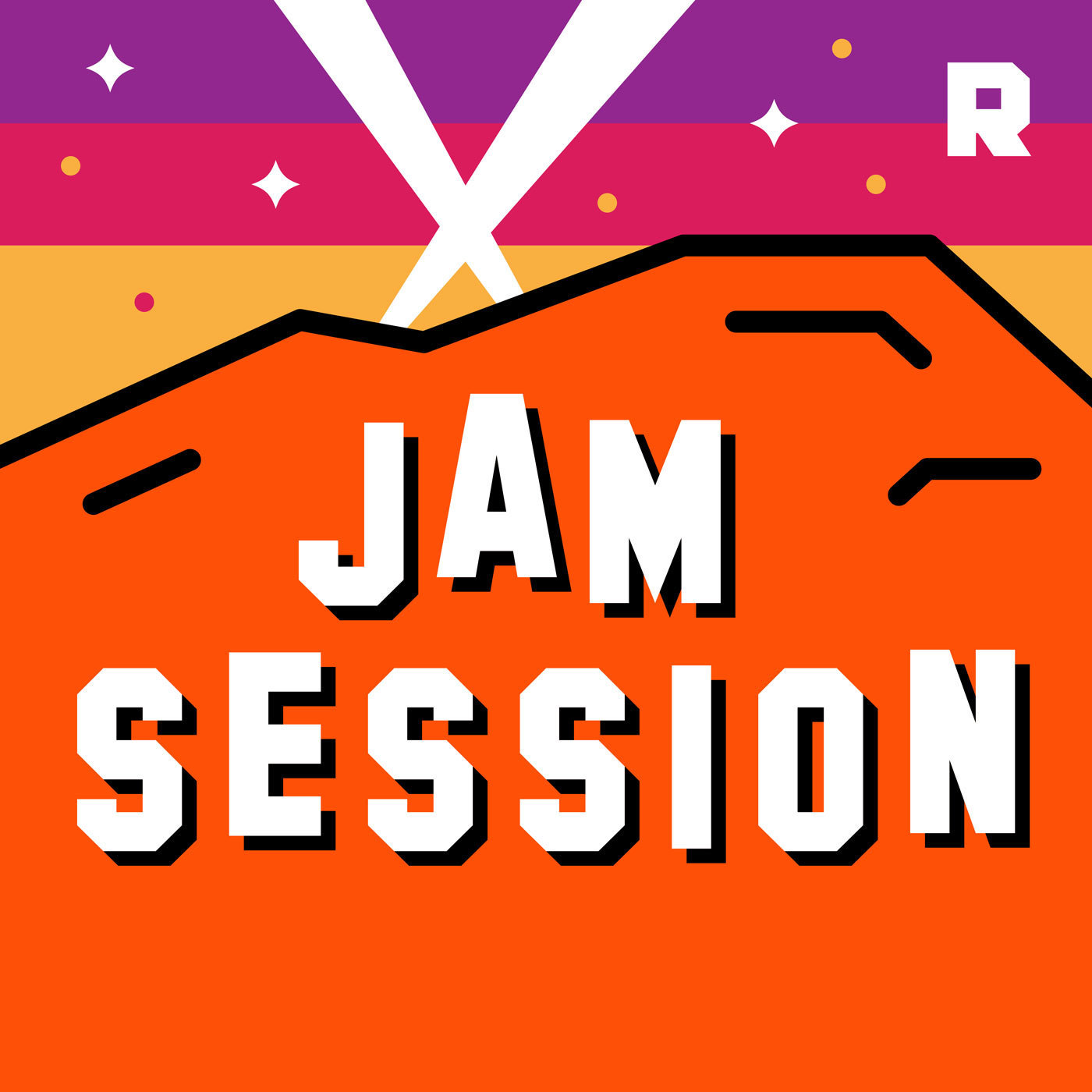 Beychella Or Bust And The Khloe Kardashian–Tristan Thompson Scandal Timeline | Jam Session (Ep. 456)
the Ringer's Juliet Litman And Amanda Dobbins Discuss Khloe Kardashian Giving Birth In The Midst Of Her Boyfriend's Cheating Scandal (0:38), Beyoncé's Coachella Takeover (22:07), And Gwyneth Paltrow's Engagement Party, Which Definitely Wasn't A Wedding (33:35).
more From The Ringer:
Veuillez patentier le temps de chargement du podcast...En fonction de votre connexion internet il est préférable de le télécharger.
---
A propos de l'auteur
The Ringer : the ringer's juliet litman and amanda dobbins discuss khloe kardashian giving birth in the midst of her boyfriend's cheating scandal (0:38), beyoncé's coachella takeover (22:07), and gwyneth paltrow's engagement party, which definitely wasn't a wedding (33:35).more from the ringer:the... Voir plus
Épisodes disponibles
| # | | Titre | publié par | | | Durée | Ajouté le | |
| --- | --- | --- | --- | --- | --- | --- | --- | --- |
| 1 | | | | | | 03:30 | 24-01-2022 | -- |
| 2 | | | | | | 59:04 | 20-01-2022 | -- |
| 3 | | | | | | 40:09 | 19-01-2022 | -- |
| 4 | | | | | | 42:29 | 15-01-2022 | -- |
| 5 | | | | | | 08:01 | 10-01-2022 | -- |
| 6 | | | | | | 41:45 | 08-01-2022 | -- |
| 7 | | | | | | 49:40 | 05-01-2022 | -- |
| 8 | | | | | | 47:14 | 31-12-2021 | -- |
| 9 | | | | | | 03:09 | 28-12-2021 | -- |
| 10 | | | | | | 43:35 | 22-12-2021 | -- |
| 11 | | | | | | 54:40 | 17-12-2021 | -- |
| 12 | | | | | | 47:15 | 13-12-2021 | -- |
| 13 | | | | | | 55:52 | 06-12-2021 | -- |
| 14 | | | | | | 46:53 | 04-12-2021 | -- |
| 15 | | | | | | 43:29 | 29-11-2021 | -- |
| 16 | | | | | | 51:54 | 25-11-2021 | -- |
| 17 | | | | | | 49:11 | 22-11-2021 | -- |
| 18 | | | | | | 38:13 | 18-11-2021 | -- |
| 19 | | | | | | 43:47 | 16-11-2021 | -- |
| 20 | | | | | | 51:48 | 11-11-2021 | -- |
| 21 | | | | | | 54:05 | 08-11-2021 | -- |
| 22 | | | | | | 56:28 | 05-11-2021 | -- |
| 23 | | | | | | 42:39 | 02-11-2021 | -- |
| 24 | | | | | | 50:07 | 28-10-2021 | -- |
| 25 | | | | | | 40:40 | 25-10-2021 | -- |
| 26 | | | | | | 52:12 | 22-10-2021 | -- |
| 27 | | | | | | 56:58 | 18-10-2021 | -- |
| 28 | | | | | | 56:58 | 18-10-2021 | -- |
| 29 | | | | | | 25:09 | 15-10-2021 | -- |
| 30 | | | | | | 01:10 | 11-10-2021 | -- |
| 31 | | | | | | 09:38 | 08-10-2021 | -- |
| 32 | | | | | | 06:27 | 05-10-2021 | -- |
| 33 | | | | | | 11:53 | 01-10-2021 | -- |
| 34 | | | | | | 47:51 | 27-09-2021 | -- |
| 35 | | | | | | 42:02 | 24-09-2021 | -- |
| 36 | | | | | | 53:52 | 21-09-2021 | -- |
| 37 | | | | | | 47:12 | 17-09-2021 | -- |
| 38 | | | | | | 43:07 | 14-09-2021 | -- |
| 39 | | | | | | 43:39 | 13-09-2021 | -- |
| 40 | | | | | | 59:10 | 10-09-2021 | -- |
| 41 | | | | | | 49:21 | 24-08-2021 | -- |
| 42 | | | | | | 57:05 | 27-08-2021 | -- |
| 43 | | | | | | 34:55 | 30-08-2021 | -- |
| 44 | | | | | | 12:42 | 02-09-2021 | -- |
| 45 | | | | | | 41:47 | 20-08-2021 | -- |
| 46 | | | | | | 39:26 | 17-08-2021 | -- |
| 47 | | | | | | 29:35 | 11-08-2021 | -- |
| 48 | | | | | | 35:17 | 09-08-2021 | -- |
| 49 | | | | | | 47:48 | 06-08-2021 | -- |
| 50 | | | | | | 46:35 | 03-08-2021 | -- |
| 51 | | | | | | 13:35 | 30-07-2021 | -- |
| 52 | | | | | | 52:24 | 27-07-2021 | -- |
| 53 | | | | | | 14:17 | 23-07-2021 | -- |
| 54 | | | | | | 33:19 | 20-07-2021 | -- |
| 55 | | | | | | 09:48 | 19-07-2021 | -- |
| 56 | | | | | | 57:46 | 16-07-2021 | -- |
| 57 | | | | | | 45:14 | 08-07-2021 | -- |
| 58 | | | | | | 36:37 | 17-02-2021 | -- |
| 59 | | | | | | 10:37 | 19-03-2021 | -- |
| 60 | | | | | | 51:25 | 02-07-2021 | -- |
| 61 | | | | | | 41:02 | 28-06-2021 | -- |
| 62 | | | | | | 53:00 | 25-06-2021 | -- |
| 63 | | | | | | 13:38 | 21-06-2021 | -- |
| 64 | | | | | | 02:37 | 18-06-2021 | -- |
| 65 | | | | | | 04:55 | 14-06-2021 | -- |
| 66 | | | | | | 07:51 | 11-06-2021 | -- |
| 67 | | | | | | 50:26 | 07-06-2021 | -- |
| 68 | | | | | | 52:59 | 04-06-2021 | -- |
| 69 | | | | | | 46:45 | 02-06-2021 | -- |
| 70 | | | | | | 10:43 | 28-05-2021 | -- |
| 71 | | | | | | 52:58 | 24-05-2021 | -- |
| 72 | | | | | | 14:27 | 21-05-2021 | -- |
| 73 | | | | | | 03:33 | 18-05-2021 | -- |
| 74 | | | | | | 00:15 | 13-05-2021 | -- |
| 75 | | | | | | 03:14 | 11-05-2021 | -- |
| 76 | | | | | | 55:48 | 07-05-2021 | -- |
| 77 | | | | | | 00:17 | 30-04-2021 | -- |
| 78 | | | | | | 57:14 | 27-04-2021 | -- |
| 79 | | | | | | 12:48 | 23-04-2021 | -- |
| 80 | | | | | | 58:07 | 20-04-2021 | -- |
| 81 | | | | | | 11:37 | 16-04-2021 | -- |
| 82 | | | | | | 53:52 | 14-04-2021 | -- |
| 83 | | | | | | 06:57 | 08-04-2021 | -- |
| 84 | | | | | | 52:24 | 22-05-2020 | -- |
| 85 | | | | | | 36:37 | 17-02-2021 | -- |
| 86 | | | | | | 55:01 | 15-03-2021 | -- |
| 87 | | | | | | 10:37 | 19-03-2021 | -- |
| 88 | | | | | | 43:55 | 07-04-2021 | -- |
| 89 | | | | | | 06:04 | 31-03-2021 | -- |
| 90 | | | | | | 00:51 | 30-03-2021 | -- |
| 91 | | | | | | 43:17 | 25-03-2021 | -- |
| 92 | | | | | | 58:47 | 22-03-2021 | -- |
| 93 | | | | | | 00:23 | 12-03-2021 | -- |
| 94 | | | | | | 55:01 | 15-03-2021 | -- |
| 95 | | | | | | 10:37 | 19-03-2021 | -- |
| 96 | | | | | | 03:42 | 09-03-2021 | -- |
| 97 | | | | | | 01:39 | 05-03-2021 | -- |
| 98 | | | | | | 42:39 | 01-03-2021 | -- |
| 99 | | | | | | 57:01 | 25-02-2021 | -- |
| 100 | | | | | | 46:02 | 22-02-2021 | -- |