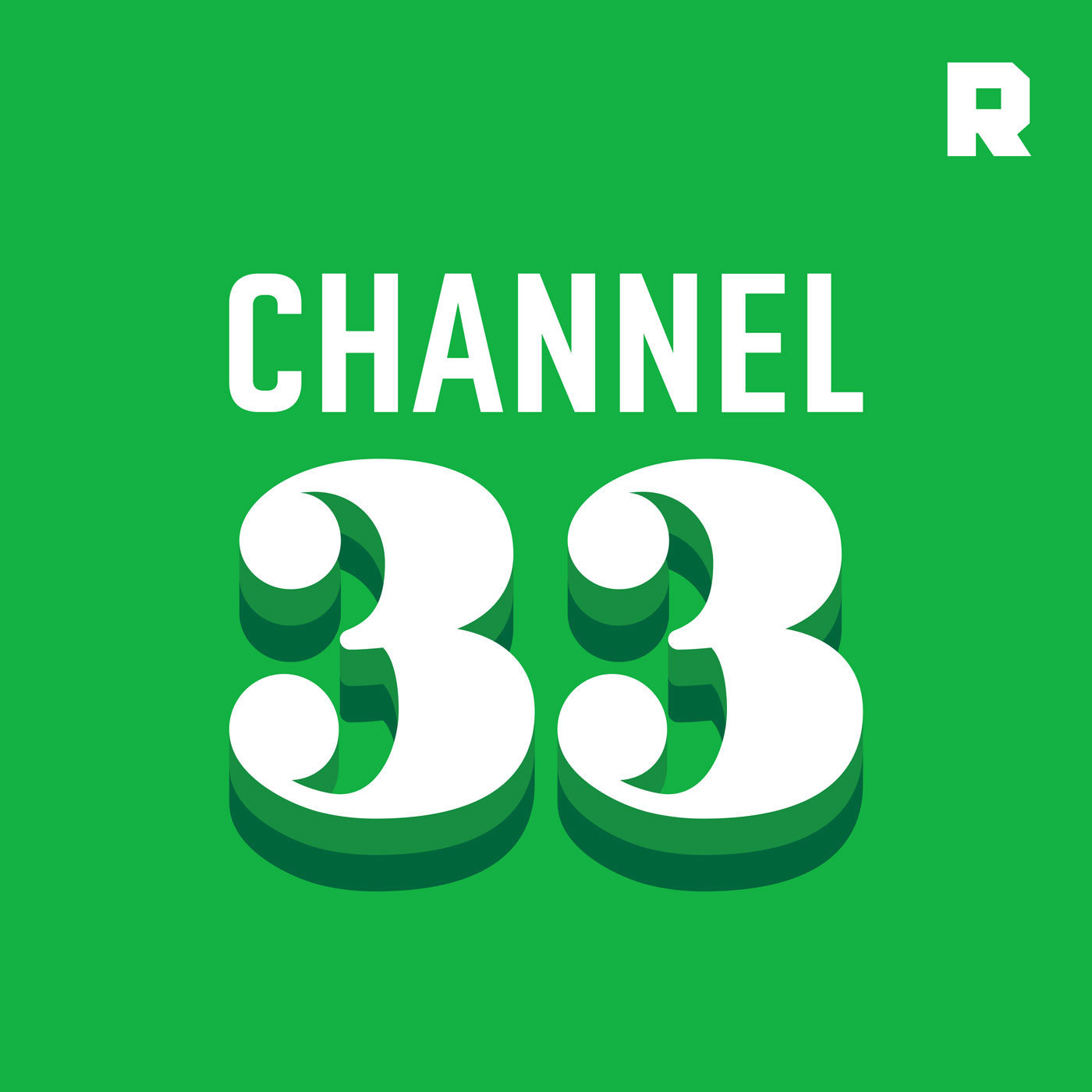 Have We Lost The Meaning Of "On Background"?
Bryan And David Respond To The Verge's Announcement That They're Changing Their "on Background" Policy (1:00) Before Assessing Whether Or Not People's "sexiest Man Alive" Has Any Remaining Cultural Relevance (23:00). Plus, The Overworked Twitter Joke Of The Week And David Shoemaker Guesses The Strained-pun Headline. Hosts: Bryan Curtis And David Shoemaker Producer: bobby wagner Learn More About Your Ad Choices. Visit Podcastchoices.com/adchoices
Veuillez patentier le temps de chargement du podcast...En fonction de votre connexion internet il est préférable de le télécharger.
---
A propos de l'auteur
The Ringer : Bryan and david respond to the verge's announcement that they're changing their "on background" policy (1:00) before assessing whether or not people's "sexiest man alive" has any remaining cultural relevance (23:00). plus, the overworked twitter joke of the week and david shoemaker... Voir plus
Épisodes disponibles
| # | | Titre | publié par | | | Durée | Ajouté le | |
| --- | --- | --- | --- | --- | --- | --- | --- | --- |
| 1 | | | | | | 48:09 | 02-06-2023 | -- |
| 2 | | | | | | 49:49 | 30-05-2023 | -- |
| 3 | | | | | | 37:43 | 25-05-2023 | -- |
| 4 | | | | | | 50:56 | 23-05-2023 | -- |
| 5 | | | | | | 54:20 | 16-05-2023 | -- |
| 6 | | | | | | 58:12 | 16-05-2023 | -- |
| 7 | | | | | | 43:26 | 12-05-2023 | -- |
| 8 | | | | | | 53:21 | 09-05-2023 | -- |
| 9 | | | | | | 46:45 | 03-05-2023 | -- |
| 10 | | | | | | 59:44 | 01-05-2023 | -- |
| 11 | | | | | | 31:22 | 28-04-2023 | -- |
| 12 | | | | | | 03:05 | 25-04-2023 | -- |
| 13 | | | | | | 32:50 | 20-04-2023 | -- |
| 14 | | | | | | 51:15 | 18-04-2023 | -- |
| 15 | | | | | | 37:20 | 13-04-2023 | -- |
| 16 | | | | | | 56:34 | 11-04-2023 | -- |
| 17 | | | | | | 50:44 | 06-04-2023 | -- |
| 18 | | | | | | 55:30 | 30-03-2023 | -- |
| 19 | | | | | | 51:22 | 27-03-2023 | -- |
| 20 | | | | | | 37:55 | 23-03-2023 | -- |
| 21 | | | | | | 52:06 | 20-03-2023 | -- |
| 22 | | | | | | 40:00 | 16-03-2023 | -- |
| 23 | | | | | | 57:02 | 13-03-2023 | -- |
| 24 | | | | | | 37:19 | 10-03-2023 | -- |
| 25 | | | | | | 59:50 | 06-03-2023 | -- |
| 26 | | | | | | 35:30 | 02-03-2023 | -- |
| 27 | | | | | | 50:10 | 28-02-2023 | -- |
| 28 | | | | | | 35:00 | 21-02-2023 | -- |
| 29 | | | | | | 05:00 | 16-02-2023 | -- |
| 30 | | | | | | 13:40 | 13-02-2023 | -- |
| 31 | | | | | | 59:20 | 08-02-2023 | -- |
| 32 | | | | | | 59:20 | 06-02-2023 | -- |
| 33 | | | | | | 42:10 | 01-02-2023 | -- |
| 34 | | | | | | 59:00 | 31-01-2023 | -- |
| 35 | | | | | | 08:00 | 27-01-2023 | -- |
| 36 | | | | | | 48:45 | 23-01-2023 | -- |
| 37 | | | | | | 40:12 | 20-01-2023 | -- |
| 38 | | | | | | 06:40 | 17-01-2023 | -- |
| 39 | | | | | | 06:40 | 17-01-2023 | -- |
| 40 | | | | | | 52:00 | 13-01-2023 | -- |
| 41 | | | | | | 47:15 | 11-01-2023 | -- |
| 42 | | | | | | 52:45 | 10-01-2023 | -- |
| 43 | | | | | | 57:30 | 07-01-2023 | -- |
| 44 | | | | | | 34:20 | 03-01-2023 | -- |
| 45 | | | | | | 03:30 | 28-12-2022 | -- |
| 46 | | | | | | 51:45 | 26-12-2022 | -- |
| 47 | | | | | | 46:40 | 22-12-2022 | -- |
| 48 | | | | | | 03:49 | 20-12-2022 | -- |
| 49 | | | | | | 40:30 | 15-12-2022 | -- |
| 50 | | | | | | 54:15 | 13-12-2022 | -- |
| 51 | | | | | | 41:30 | 09-12-2022 | -- |
| 52 | | | | | | 01:00 | 05-12-2022 | -- |
| 53 | | | | | | 33:51 | 02-12-2022 | -- |
| 54 | | | | | | 58:30 | 29-11-2022 | -- |
| 55 | | | | | | 45:50 | 23-11-2022 | -- |
| 56 | | | | | | 50:10 | 22-11-2022 | -- |
| 57 | | | | | | 33:13 | 18-11-2022 | -- |
| 58 | | | | | | 24:40 | 17-11-2022 | -- |
| 59 | | | | | | 03:40 | 14-11-2022 | -- |
| 60 | | | | | | 27:16 | 09-11-2022 | -- |
| 61 | | | | | | 01:21 | 08-11-2022 | -- |
| 62 | | | | | | 10:45 | 03-11-2022 | -- |
| 63 | | | | | | 03:56 | 31-10-2022 | -- |
| 64 | | | | | | 40:23 | 28-10-2022 | -- |
| 65 | | | | | | 59:31 | 25-10-2022 | -- |
| 66 | | | | | | 36:03 | 20-10-2022 | -- |
| 67 | | | | | | 59:00 | 18-10-2022 | -- |
| 68 | | | | | | 41:53 | 13-10-2022 | -- |
| 69 | | | | | | 08:25 | 12-10-2022 | -- |
| 70 | | | | | | 31:08 | 07-10-2022 | -- |
| 71 | | | | | | 08:01 | 04-10-2022 | -- |
| 72 | | | | | | 09:47 | 28-09-2022 | -- |
| 73 | | | | | | 52:52 | 27-09-2022 | -- |
| 74 | | | | | | 34:11 | 23-09-2022 | -- |
| 75 | | | | | | 53:29 | 20-09-2022 | -- |
| 76 | | | | | | 51:22 | 14-09-2022 | -- |
| 77 | | | | | | 47:21 | 13-09-2022 | -- |
| 78 | | | | | | 53:09 | 07-09-2022 | -- |
| 79 | | | | | | 04:21 | 06-09-2022 | -- |
| 80 | | | | | | 34:36 | 01-09-2022 | -- |
| 81 | | | | | | 52:46 | 29-08-2022 | -- |
| 82 | | | | | | 43:05 | 26-08-2022 | -- |
| 83 | | | | | | 59:07 | 22-08-2022 | -- |
| 84 | | | | | | 01:48 | 17-08-2022 | -- |
| 85 | | | | | | 47:06 | 15-08-2022 | -- |
| 86 | | | | | | 50:24 | 10-08-2022 | -- |
| 87 | | | | | | 08:50 | 08-08-2022 | -- |
| 88 | | | | | | 34:10 | 03-08-2022 | -- |
| 89 | | | | | | 02:31 | 03-08-2022 | -- |
| 90 | | | | | | 05:45 | 28-07-2022 | -- |
| 91 | | | | | | 48:17 | 26-07-2022 | -- |
| 92 | | | | | | 12:26 | 20-07-2022 | -- |
| 93 | | | | | | 38:43 | 18-07-2022 | -- |
| 94 | | | | | | 33:31 | 13-07-2022 | -- |
| 95 | | | | | | 54:29 | 13-07-2022 | -- |
| 96 | | | | | | 46:50 | 05-07-2022 | -- |
| 97 | | | | | | 57:35 | 29-06-2022 | -- |
| 98 | | | | | | 51:44 | 28-06-2022 | -- |
| 99 | | | | | | 08:58 | 23-06-2022 | -- |
| 100 | | | | | | 39:10 | 21-06-2022 | -- |