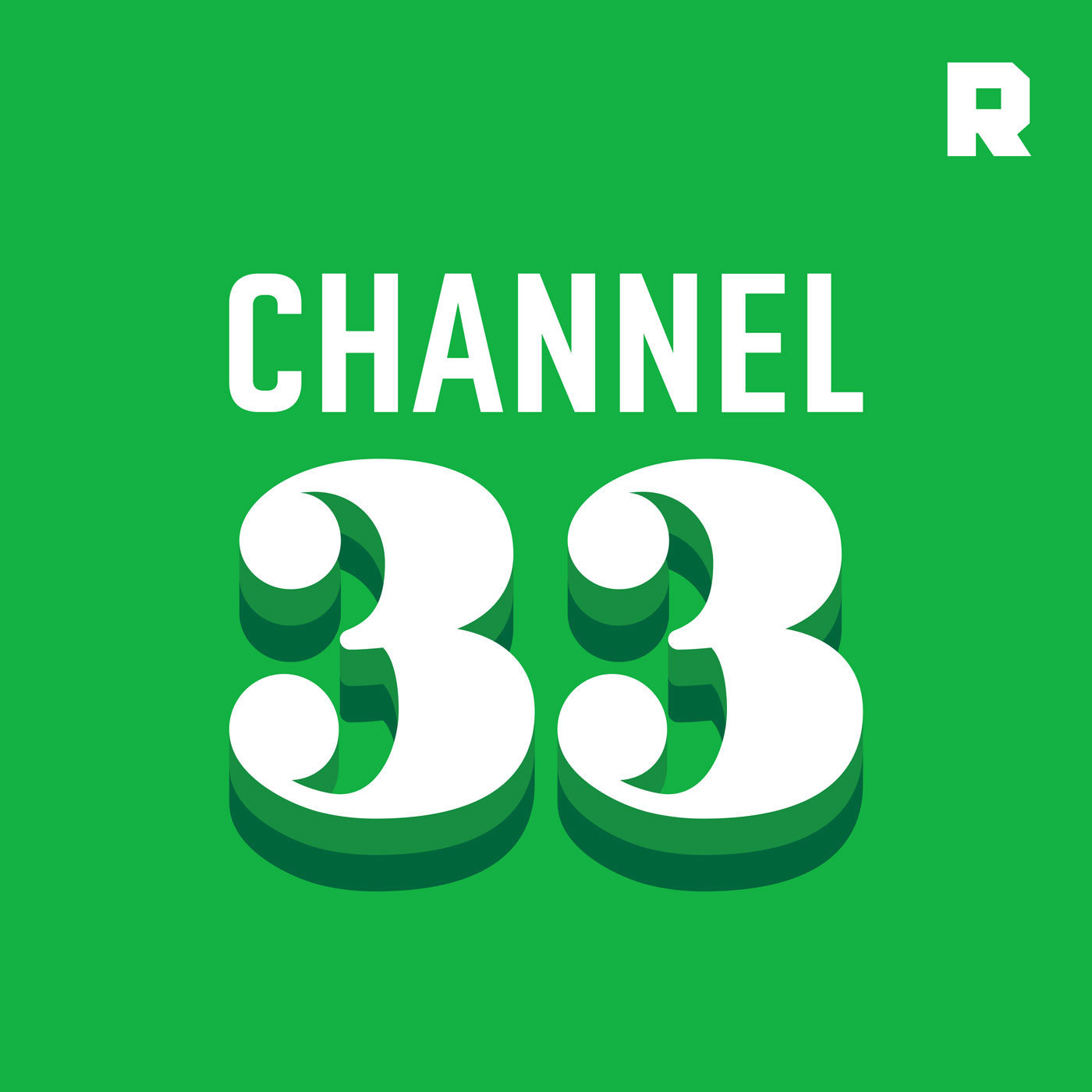 The Athletic And The New York Times. Plus: The Year In Media.
Bryan And David Touch On The News That The New York Times Might Be Buying The Athletic. They Discuss The Potential Deal And What Place The Athletic Could Have At The Times (1:19). Then They Hand Out 2021 Year In Media Awards For Image Of The Year, Sports Media Story Of The Year, Disgraceful Exit Of The Year, And More (15:21)! Plus, The Overworked Twitter Joke Of The Week And David Shoemaker Guesses The Strained-pun Headline.  Hosts: Bryan Curtis And David Shoemaker Associate Producer: Erika Cervantes Learn More About Your Ad Choices. Visit Podcastchoices.com/adchoices
Veuillez patentier le temps de chargement du podcast...En fonction de votre connexion internet il est préférable de le télécharger.
---
A propos de l'auteur
The Ringer : Bryan and david touch on the news that the new york times might be buying the athletic. they discuss the potential deal and what place the athletic could have at the times (1:19). then they hand out 2021 year in media awards for image of the year, sports media story of the year, disgraceful exit of... Voir plus
Épisodes disponibles
| # | | Titre | publié par | | | Durée | Ajouté le | |
| --- | --- | --- | --- | --- | --- | --- | --- | --- |
| 1 | | | | | | 58:46 | 17-05-2022 | -- |
| 2 | | | | | | 52:33 | 10-05-2022 | -- |
| 3 | | | | | | 03:47 | 10-05-2022 | -- |
| 4 | | | | | | 10:16 | 05-05-2022 | -- |
| 5 | | | | | | 10:02 | 03-05-2022 | -- |
| 6 | | | | | | 50:15 | 27-04-2022 | -- |
| 7 | | | | | | 12:46 | 26-04-2022 | -- |
| 8 | | | | | | 02:12 | 27-01-2022 | -- |
| 9 | | | | | | 13:10 | 20-04-2022 | -- |
| 10 | | | | | | 57:07 | 19-04-2022 | -- |
| 11 | | | | | | 20:48 | 14-04-2022 | -- |
| 12 | | | | | | 54:16 | 11-04-2022 | -- |
| 13 | | | | | | 14:29 | 06-04-2022 | -- |
| 14 | | | | | | 57:12 | 05-04-2022 | -- |
| 15 | | | | | | 03:36 | 30-03-2022 | -- |
| 16 | | | | | | 38:37 | 29-03-2022 | -- |
| 17 | | | | | | 37:27 | 25-03-2022 | -- |
| 18 | | | | | | 54:59 | 21-03-2022 | -- |
| 19 | | | | | | 31:14 | 15-03-2022 | -- |
| 20 | | | | | | 02:21 | 14-03-2022 | -- |
| 21 | | | | | | 37:52 | 11-03-2022 | -- |
| 22 | | | | | | 45:20 | 08-03-2022 | -- |
| 23 | | | | | | 03:12 | 27-01-2022 | -- |
| 24 | | | | | | 52:48 | 02-03-2022 | -- |
| 25 | | | | | | 45:00 | 01-03-2022 | -- |
| 26 | | | | | | 03:12 | 27-01-2022 | -- |
| 27 | | | | | | 31:39 | 24-02-2022 | -- |
| 28 | | | | | | 02:07 | 23-02-2022 | -- |
| 29 | | | | | | 07:57 | 18-02-2022 | -- |
| 30 | | | | | | 22:47 | 15-02-2022 | -- |
| 31 | | | | | | 09:13 | 14-02-2022 | -- |
| 32 | | | | | | 47:12 | 09-02-2022 | -- |
| 33 | | | | | | 52:24 | 22-05-2020 | -- |
| 34 | | | | | | 36:37 | 17-02-2021 | -- |
| 35 | | | | | | 55:01 | 15-03-2021 | -- |
| 36 | | | | | | 10:37 | 19-03-2021 | -- |
| 37 | | | | | | 06:57 | 08-04-2021 | -- |
| 38 | | | | | | 57:14 | 27-04-2021 | -- |
| 39 | | | | | | 13:38 | 21-06-2021 | -- |
| 40 | | | | | | 33:19 | 20-07-2021 | -- |
| 41 | | | | | | 14:17 | 23-07-2021 | -- |
| 42 | | | | | | 46:35 | 03-08-2021 | -- |
| 43 | | | | | | 43:07 | 14-09-2021 | -- |
| 44 | | | | | | 11:53 | 01-10-2021 | -- |
| 45 | | | | | | 51:54 | 25-11-2021 | -- |
| 46 | | | | | | 02:12 | 27-01-2022 | -- |
| 47 | | | | | | 39:13 | 31-01-2022 | -- |
| 48 | | | | | | 44:57 | 07-02-2022 | -- |
| 49 | | | | | | 48:29 | 02-02-2022 | -- |
| 50 | | | | | | 39:13 | 31-01-2022 | -- |
| 51 | | | | | | 02:12 | 27-01-2022 | -- |
| 52 | | | | | | 03:30 | 24-01-2022 | -- |
| 53 | | | | | | 59:04 | 20-01-2022 | -- |
| 54 | | | | | | 40:09 | 19-01-2022 | -- |
| 55 | | | | | | 42:29 | 15-01-2022 | -- |
| 56 | | | | | | 08:01 | 10-01-2022 | -- |
| 57 | | | | | | 41:45 | 08-01-2022 | -- |
| 58 | | | | | | 49:40 | 05-01-2022 | -- |
| 59 | | | | | | 47:14 | 31-12-2021 | -- |
| 60 | | | | | | 03:09 | 28-12-2021 | -- |
| 61 | | | | | | 43:35 | 22-12-2021 | -- |
| 62 | | | | | | 54:40 | 17-12-2021 | -- |
| 63 | | | | | | 47:15 | 13-12-2021 | -- |
| 64 | | | | | | 55:52 | 06-12-2021 | -- |
| 65 | | | | | | 46:53 | 04-12-2021 | -- |
| 66 | | | | | | 43:29 | 29-11-2021 | -- |
| 67 | | | | | | 51:54 | 25-11-2021 | -- |
| 68 | | | | | | 49:11 | 22-11-2021 | -- |
| 69 | | | | | | 38:13 | 18-11-2021 | -- |
| 70 | | | | | | 43:47 | 16-11-2021 | -- |
| 71 | | | | | | 51:48 | 11-11-2021 | -- |
| 72 | | | | | | 54:05 | 08-11-2021 | -- |
| 73 | | | | | | 56:28 | 05-11-2021 | -- |
| 74 | | | | | | 42:39 | 02-11-2021 | -- |
| 75 | | | | | | 50:07 | 28-10-2021 | -- |
| 76 | | | | | | 40:40 | 25-10-2021 | -- |
| 77 | | | | | | 52:12 | 22-10-2021 | -- |
| 78 | | | | | | 56:58 | 18-10-2021 | -- |
| 79 | | | | | | 56:58 | 18-10-2021 | -- |
| 80 | | | | | | 25:09 | 15-10-2021 | -- |
| 81 | | | | | | 01:10 | 11-10-2021 | -- |
| 82 | | | | | | 09:38 | 08-10-2021 | -- |
| 83 | | | | | | 06:27 | 05-10-2021 | -- |
| 84 | | | | | | 11:53 | 01-10-2021 | -- |
| 85 | | | | | | 47:51 | 27-09-2021 | -- |
| 86 | | | | | | 42:02 | 24-09-2021 | -- |
| 87 | | | | | | 53:52 | 21-09-2021 | -- |
| 88 | | | | | | 47:12 | 17-09-2021 | -- |
| 89 | | | | | | 43:07 | 14-09-2021 | -- |
| 90 | | | | | | 43:39 | 13-09-2021 | -- |
| 91 | | | | | | 59:10 | 10-09-2021 | -- |
| 92 | | | | | | 49:21 | 24-08-2021 | -- |
| 93 | | | | | | 57:05 | 27-08-2021 | -- |
| 94 | | | | | | 34:55 | 30-08-2021 | -- |
| 95 | | | | | | 12:42 | 02-09-2021 | -- |
| 96 | | | | | | 41:47 | 20-08-2021 | -- |
| 97 | | | | | | 39:26 | 17-08-2021 | -- |
| 98 | | | | | | 29:35 | 11-08-2021 | -- |
| 99 | | | | | | 35:17 | 09-08-2021 | -- |
| 100 | | | | | | 47:48 | 06-08-2021 | -- |